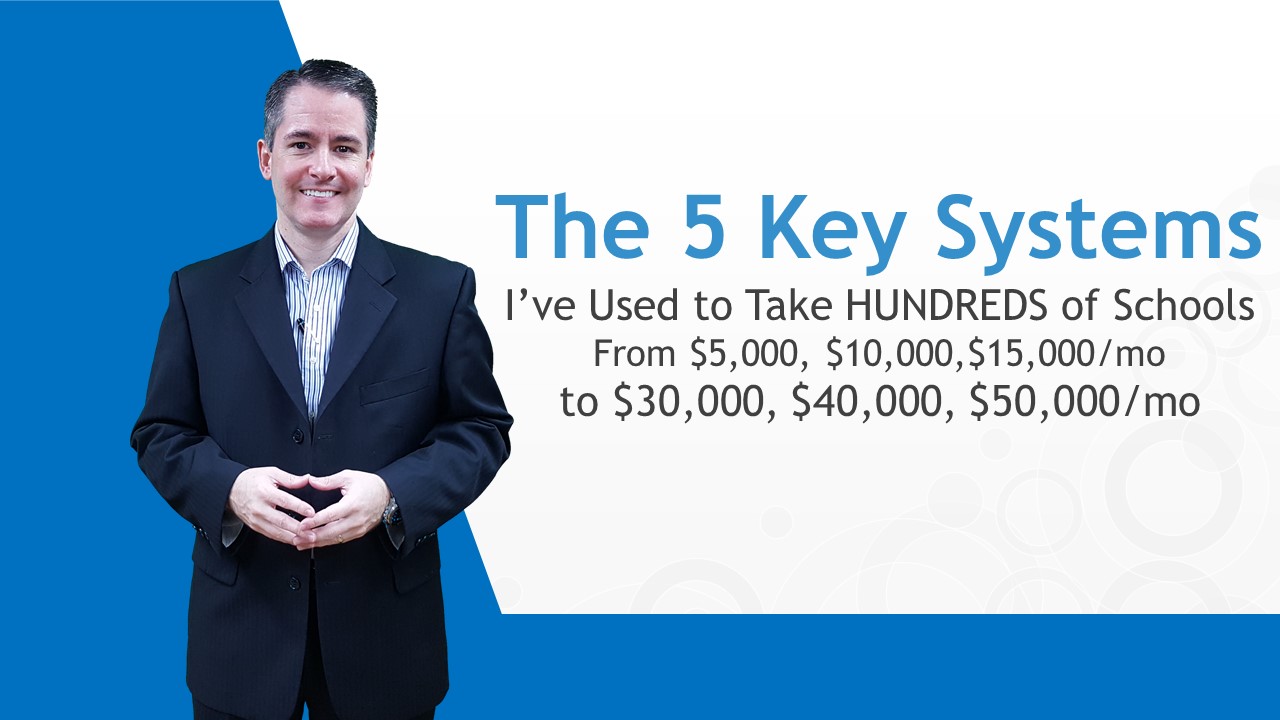 About Course
About the Instructor
Master Toby Milroy is a 5th Degree Black Belt, the CEO and Publisher of Martial Arts World News Magazine, and the Executive Vice President for AMS. In addition to building a successful multi school organization, Master Milroy has positively influenced more martial arts schools than virtually anyone in our industry.
Course – The 5 Systems You Need to Get from $5K to $50K a Month
This course presents the core systems that any school owner can utilize to quickly elevate income by as much as 10 times more a month.  Each of the 5 systems is revealed and then clarified as to how they all fit together as a dynamic income boosting system. Discover the 5 Critical Systems You NEED in Your School to Transform from Struggling to Successful. Here is the content for the course:
Lesson 1 – Introduction
This lesson explains why Successful Schools must be Systemically Based rather than personality driven to generate great income.
Lesson 2 – The Big Rocks
This lesson shares what the Main Features Required for a martial arts school to have consistent and rising monthly income.
Lesson 3 – Belief Systems
This lesson expresses the importance of Overcoming False Beliefs about making a really good income in your martial arts school.
Lesson 4 – Marketing Systems
This lesson details some of The Best Working Marketing Tactics to generate more leads monthly so you can dominate your market.
Lesson 5 – Sales / Enrollment Systems
This lesson shows how to do Powerful Sales Presentations to give a school owners the skills to convert prospect into students.
Lesson 6 – Classroom Systems
This lesson presents the components of Efficient Class Organization designed to make your school retention have great stability.
Lesson 7  – Leadership Systems
Lastly, this lesson will provide you with Ways to Develop Leaders in order to build a strong staff that reaches its potential.
Show More
What Will You Learn?
Learn about and how to use the systems, then elevate your income as much 10 times or more a month.
Course Content
Introduction
Lesson 1 – Intro

Lesson 2 – The Big Rocks
The 5 Key Systems